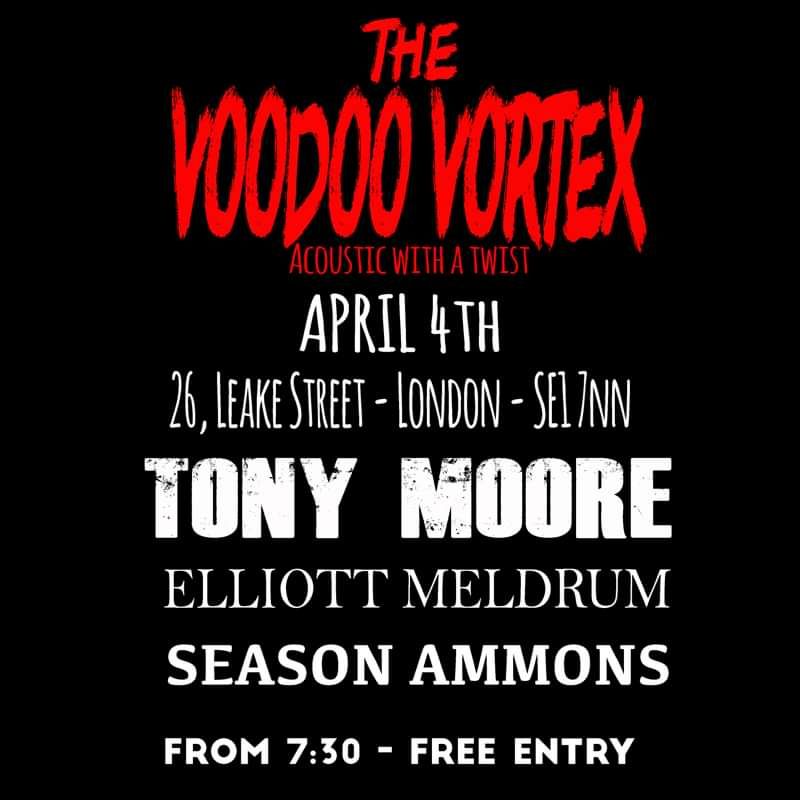 The Voodoo Vortex
Tony Moore
The Voodoo Vortex returns on April 4th for it's second show in the ongoing "First Thursday" season of acoustic performances...Bringing incredible artists to amazing spaces - FREE ENTRY
9:30pm TONY MOORE www.tonymooremusic.com www.instagram.com/tonymoore www.facebook.com/tonymooremedia
Tony Moore is a British singer and songwriter who has had a truly eclectic career in the music business. He started his musical life as the (one and only) keyboard player in an original line up of Iron Maiden. In the mid 80's his band Radio Java had a Christmas hit in Holland with a song he wrote and recorded at Abbey Road called "Fool". From 1986 he was keyboard player in the band Cutting Crew who went on to have worldwide success with the song "(I Just) Died In Your Arms Tonight" Through the 90's he was co-writer/producer and musical director with Marie Claire D'Ubaldo who had enormous success throughout Europe with the song "The Rhythm Is Magic" At the end of the decade he founded and curated one of the most important and influential music venues for singer/songwriters in London, The Kashmir Klub, that played host to early shows from emerging artists like Damien Rice and KT Tunstall as well as secret shows from superstars like Sheryl Crow, Dave Stewart (Eurythmics) and members of Fleetwood Mac. During the 2000's he started promoting all the music at The Bedford in Balham and played a role in the early music careers of Paolo Nutini, James Morrison, Newton Faulkner, Ed Sheeran and many more. Since 2014, he has presented a critically acclaimed weekly show on Soho Radio whilst continuing to write, record, produce and tour in his own right. Tony was invited to be Music Ambassador for the European Games 2019 (being held in Minsk, Belarus in June) and wrote a special song called "We Are The Light" to recognise and celebrate how these games embrace the unity of sport and human endeavour around the world. He will perform it at the beginning of the flag ceremony during the Closing Ceremony to a worldwide audience of many millions. For his special show at 26, Leake Street on April 4th, he is joined by bass player Leoni Jane Kennedy and drummer James Jackman
8:30 ELLIOTT MELDRUM https://www.facebook.com/elliottmeldrum.music www.instagram.com/elliottmeldrum.music
Although still young, Elliott is one of the most original, talented and creative performers coming through at the moment. He has already captured the attention of many people and recently played a special show for the inaugural YouTuber's conference at Excel in Feb.
7:45 SEASON AMMONS https://seasonammons.com/ https://www.facebook.com/season.ammons.7
Confident and often downright virtuosic, Dallas native Season Ammons cut her teeth on the Texas Opry circuit as a teenager before moving to Nashville to focus on songwriting. A warm reflection of the MoTown, Classic Rock and Blues vocalists she grew up loving, Ammons' voice demanded attention. She was a regional finalist on talent-scouting machine Nashville Star and released a solo debut in 2011, a standout that garnered a Texas Music Awards nod, before moving to the Fort Walton Beach area in Florida the following year. Ammons' second solo record turned heads and clinched nominations throughout Texas and Florida.
Gig after gig, album after album, Ammons became well known and beloved on Florida's Emerald Coast as a solid guitarist, magnetic performer, and gifted writer and in 2016 she won Best Country Artist, Best Female Vocalist and Best Singer/Songwriter at the Annual Emerald Coast BMA Awards. After touring the South East Region for several years, there was a strong desire and longing to shift back to her Texas roots. Finally, Ammons has firmly planted herself back in the Lone Star State, aimed now on songwriting, recording two new albums and touring the Texas Hill Country where she now calls home. "Jim Beam & Nicotine" is Ammons latest single produced by Grammy Award-Winning producer Dave Percefull. The song is currently charting Top 100 on Texas Country Radio and appears on her forthcoming album "Neon Side of Town" that came out on January 18th 2019.