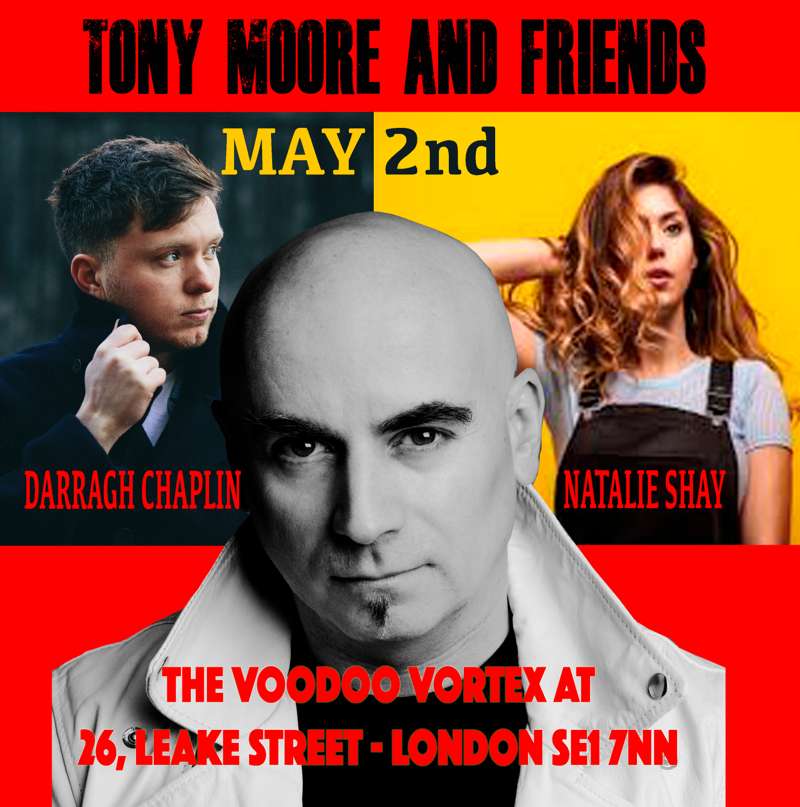 The Voodoo Vortex - Tony Moore And Friends
Tony Moore
Tony Moore and Friends at The Voodoo Vortex
7:30 Darragh Chaplin - https://www.facebook.com/DarraghChaplinMusic/
Coming from a musical family, a life in music was unavoidable. From an early age Darragh played the drums and then picked up a guitar for the first time age 14 and has always been singing. This combination of guitar and singing developed a love for songwriting. Darragh Chaplin creates an emotional and sensitive overall sound with lyrics mainly based on experience. For fans of Lewis Capaldi, Ed Sheeran, Damien Rice and Lewis Watson
8:30 Natalie Shay - http://www.natalieshay.co.uk/
Natalie Shay is a multi award-winning, indie pop/rock artist from North London. Deemed as one of London's hottest emerging talents, Shay is launching herself into the forefront of the industry, with recent critical acclaim.
Natalie's talents have found herself performing to sold-out audiences at some of London's most iconic and renown venues, including The Roundhouse, Ronnie Scotts and Brooklyn Bowl, O2. Her successes to date include her long list of awards from 'Best Undiscovered Talent' London Music Award, Winner of The Guardian's Music Award and two time winner of the Mayor of London Gigs. New single 'This Feeling' landed Shay at a stunning number 4 on the iTunes singer/songwriter charts.
9:30 Tony Moore and Friends - www.tonymooremusic.com
Tony began his career in the music industry playing keyboards as an original member of "Iron Maiden". He then went on to form a band called "Tanz Der Youth" with Brian James (ex Damned) and achieved critical acclaim as part of the "New Wave" of British Music at the end of the 70's.
Through the early 80's Tony went on to record an album of his own songs at the legendary Abbey Road studios which spawned a Christmas hit in Europe in 1983 with a song called "Fool" In 1986 he joined a band called Cutting Crew as keyboard player and they went on to have massive worldwide success with a song called "I Just Died In Your Arms Tonight" which was number 1 in 15 different countries.
He is currently working on brand new material and still performing regularly both in the UK and around the world.
Tonight he will be playing a set of original songs with and maybe some guest performers and singers will join him